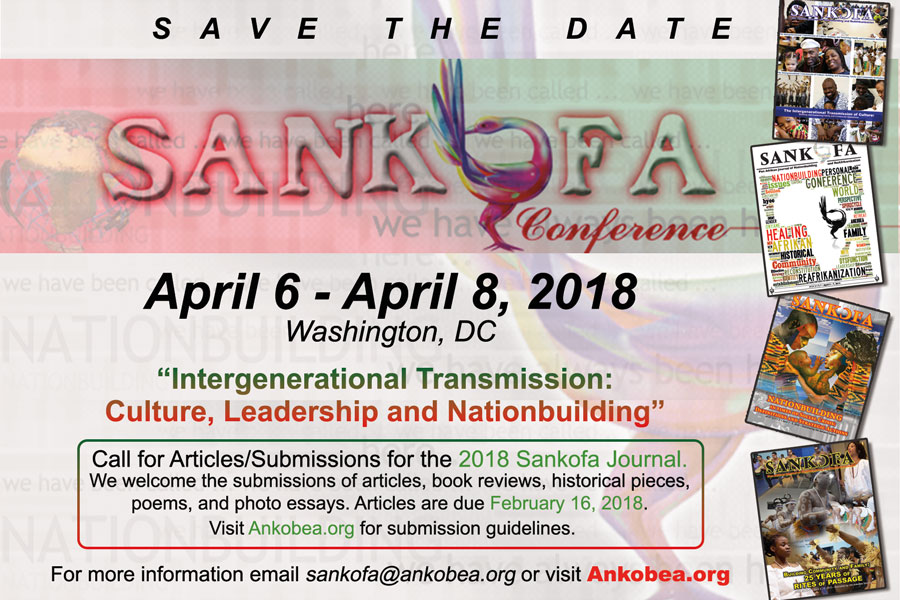 The Ankobea society is soliciting articles for the 2018 Sankofa Journal.  Our theme this year is "Intergenerational Transmission:  Culture, Leadership and Nationbuilding"  The Sankofa Pan Afrikan Journal of Nationbuilding and ReAfrikanization is an annual journal published by the Ankobea Society and NationHouse. Contributions are solicited from members and friends of those two institutions.  The Sankofa Journal encourages the submission of articles that speak directly to issues and concerns of Afrikan people at home and in the diaspora as it relates to Nationbuilding and ReAfrikanization. The discussion should be accessible to an audience across disciplines.  All submissions should be sent to sankofa@ankobea.org.  Authors may be invited to present their article at the 2018 Sankofa conference
We will accept article submissions until Friday, February 16, 2018. Please consider submitting an article/ a concise excerpt from your research/ a short story/a book review to the journal. For more submission information please download the Sankofa Journal submission guidelines.
If you have any questions or if you need assistance, please feel free to send an email to sankofa@ankobea.org or call 202-656-2329.
---

CONFERENCE ISSUES:
What is an appropriate definition of "Nationbuilding" given the historical, philosophic, political, economic and cultural conditions/constraints of Afrikans in the Americas?
What lessons and strategies do the historic models of "Nationbuilding" in ancient and traditional Afrika provide for us today?
What lessons and actionable principles can be learned from the liberation movements of the mid to late twentieth century?
What are the specific social/political/economic conditions of Afrikans in America that warrant "Nationbuilding" strategies and action?
What is an appropriate definition of strategy?
What current theorists, activists, historians, philosophers/thinkers, elders… have made substantive and concrete/palpable/working…contributions to the current dialogue and institution building… efforts?

WORKSHOP TRACKS INCLUDE:
REAFRIKANIZATION:
An Afrikan Perspective on History and Identity: The Historical Spirocycle
Onyame Nhye-hyee – A Paradigm of ReAfrikanization, Nationbuilding and Family Development   / Ankobea Leadership Training Retreat
Gender Session:  Role of Afrikan men/women in the establishment and maintenance of substantive personal relationships and Community Development
INSTITUTION DEVELOPMENT:
Family in Nationbuilding: Definition, Formation, organization, Mission and Accountability
Organization and Institutional Formation, Mission, Strategy and in Facilitating Nationbuilding
Development, Role and Strategies of Community Institutions in Nationbuilding
OTHER TOPICs  and Information COMING SOON:
Nationbuilding
Focus Groups
Conference Fees
Location