An Annual Ritual of Deity and
Ancestor Veneration & Invocation
Spiritual Healing for the Afrikan Community
Family Development & Reaffirmation — ReAfrikanization & Nationbuilding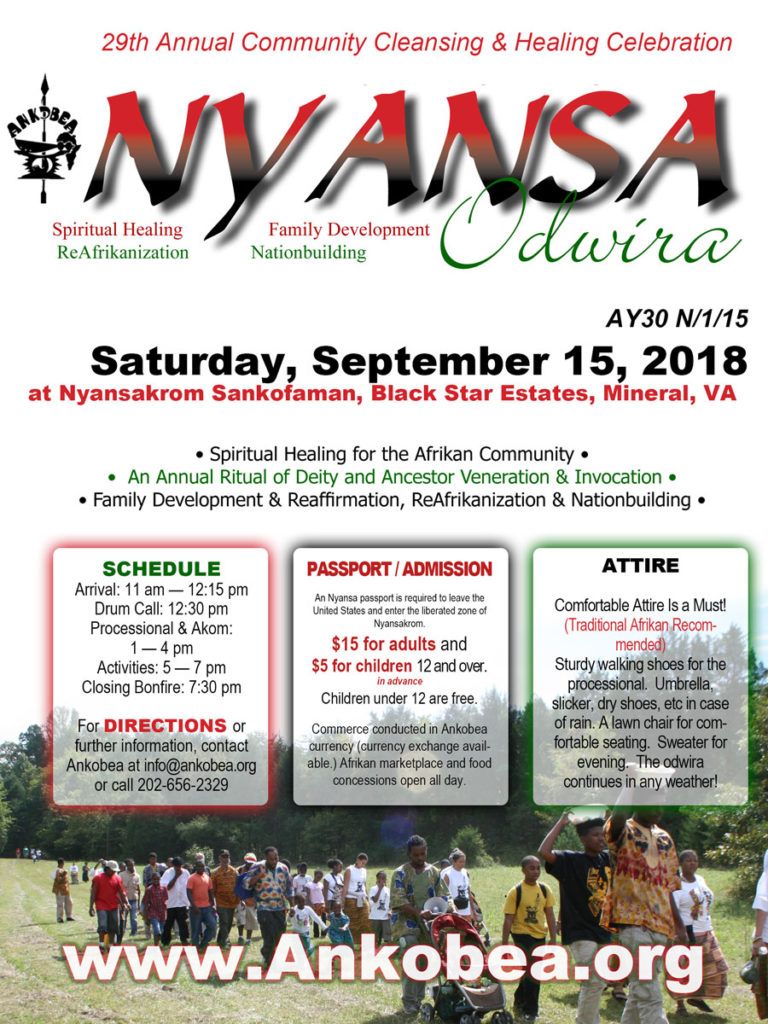 Nyansakrom Sankofaman Black Star Estates, Mineral, VA

PASSPORT / ADMISSION

An Nyansa passport is required to leave the United States and enter the liberated zone of Nyansakrom.  Passports cost $15 for adults and $5  for children 12 and over. Children under 12 are free.  Commerce conducted in Ankobea currency (currency exchange available.) Afrikan marketplace and food concessions open all day.

SCHEDULE
Arrival: 11 am — 12:15 pm
Drum Call: 12:30 pm
Processional & Akom: 1 — 4 pm
Activities: 5 — 7 pm
Closing Bonfire: 7:30 pm

ATTIRE
Comfortable Attire Is a Must! (Traditional Afrikan Recommended)
Sturdy walking shoes for the processional.  Umbrella, slicker, dry shoes, etc in case of rain. Sweater for evening.  The odwira continues in any weather!
Transportation / Direction
For directions or further information, contact Ankobea at info@ankobea.org or call 202-656-2329
"It is a small space that shows us small steps through the path to the bigger vision.   It has been laid before us by our ancestors. They come here when we ask and are always here when we don't. This is a sacred place."  (NSAA Shrines, 2005)
For more information send an email to info@ankobea.org